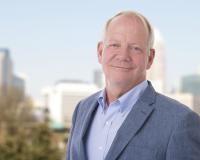 My Relocation Story

I came to Charlotte, from Hoboken, NJ, just outside the NYC area with a wife and four young children looking for a better lifestlye. I grew up in the Maryland suburbs of Washington, D.C. I've lived in suburbia, intown and now I am coming to know something about Charlotte, my adopted hometown. I've been writing this blog, and its forerunner, for 9 years and it's been a great journey, loads of fun, and it has also made me a better Agent/Broker. A top agent in Charlotte for 8 of the last 10 years.

Like so many others, we moved to Charlotte by choice. We were looking for a new start, a place where our kids could grow and prosper, we wanted a place to raise a family where our money would go farther. Our 4 young children have all attended private and public schools, graduating from public high school, all four graduating college, two with advanced degrees. They were prepared well here. My wife has worked much of the time in education and now is a professor of education at a local University. We moved for a better education for our children, and that is why some call us "Education agents." Charlotte has been very good to our family.
Market Experts, Trusted Partners What Makes Us Trusted Partners?
It is the nature of our relationship to our Clients. Your interests are first, the center of everything we do here. Never hi pressure, we are on your side from start to finish! I can be an adviser, a tough cop, or a patient negotiator as the situation demands... then once you make the call, I spring into action, and when I need to, engage my team as well.

Market Experts
I know Charlotte, from Waxhaw to Lake Norman, and all points in between. I moved my young family here 21 years ago from Hoboken, New Jersey. I have been a real estate broker for the last decade, before that, I spent 20 years as a designer, builder and remodelor. I know houses. I write about real estate and life in Charlotte in my blog, CharlotteCommunitiesonline, (CCO) which has been cited or used in local papers, Charlotte Magazine and Southern Living. I am a numbers guy too--check out our market reports on CCO.

Selling Your House
Unlike most Brokers, I work with only a limited number of Sellers every year- this allows me to create and implement a personalized and unique marketing plan for each property, and give your property the attention it deserves. My intimate knowldge of buyer needs and wants helps me identify precisely the buyers who would buy your house, and our technology skills, particularly Facebook and You Tube, and our deep data base of potential buyers, help us reach those buyers effectively and swiftly.

I love selling the house that others have failed to sell. Likewise, I appreciate the over the top house, the killer house that may be "over improved" - we are uniquely suited for finding the exact buyer needed to get an "over the top price" for my Sellers. I sold my own homes long before I was a Realtor, and they were often a bit over built. Sold them all though!
Send Terry a Message